Goodyard hair tape in hair extensions vs regular tape ins: Which is best?
May 15,2022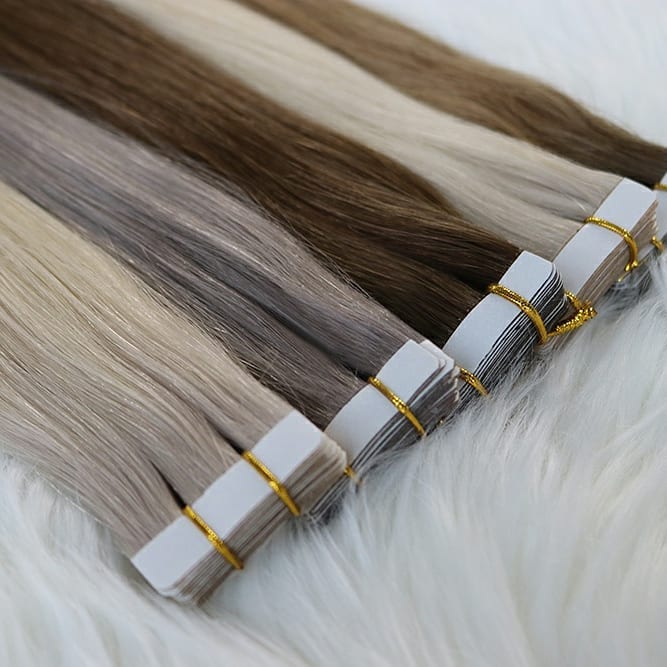 Sometimes hair extension prices can get so high that it becomes difficult to splurge on luxury hair extension wefts, other times we just need a quick, lasting fix. In these cases, you can either go the temporary route — we're talking clip-ins — or you can opt for something better, Tape in hair extensions.
The issue with having a variety of hair extensions is that picking the best one for your hair can seem like an impossible task, but Tape in extensions are one of the best kinds. In this article, we'll show you why Tape-ins are a great hair investment, and why you should pick Goodyard hair Tape-ins to recreate that beautiful hairstyle.
What are Tape-in hair extensions?
There are different kinds of hair extension styles: Permanent, semi-permanent, and temporary extensions like Clip-ins. Tape extensions fall under the semi-permanent group.
Tape in extensions are possibly the most popular and widely-used hair extension style among hair extensions. It is made by taking a thin layer of hair and attaching them on a medical-grade, double-sided adhesive tape from the roots. The adhesive strips are usually about an inch long. These hair extension strips are attached to the scalp by sandwiching them between small layers of natural hair and letting the sticky glue bond with the hair.
Pros and Cons of using regular Tape-in hair extensions
Every hair extension technique has its advantages and disadvantages; the Tape in extension is not left out. Although it is a relatively damage-free method, it can go bad when not installed or removed with care. A lot of the damage seen in Tape ins are largely caused by improper use, however here are some pros and cons of using Tape in hair extensions.
Pros:
Reusability: Like we said earlier, Tape in hair extensions are an investment. You can use your strips up to three times before the glue gets weak. This depends on how you put in and remove your extensions, though. It also depends on how regularly you touched them up.
Blends well: The transparent or semi-transparent tape makes it hard to point it out in natural hair. Tape in hair extensions blend in flawlessly with your hair, and lie flat against your scalp. They are also not easy to pull out, unlike clip-ins.
Easy to install: Technically, you can install Tape in extensions from the comfort of your home. It is a very simple method and can be installed quickly; the process may take a little over an hour or less. However, only professional hairstylists are advised to handle Tape ins. If you have no experience, learn and practice first before DIYing.
Easy to maintain: Unlike what you may think, Tape in hair extensions are not fragile. You can flatiron, scrunch, blow-dry, curl, and braid Tape in extensions. They are quite customizable. However, you shouldn't let heat go too close to the roots.
Cheaper than others: Tape ins are the least expensive semi-permanent method available in hair salons today. They offer the quality and longevity (up to 7 months) of permanent extensions for the price and flexibility of more temporary ones.
They do the least damage: Tape in hair extensions are much lighter than Clip-ins and Sew-ins, so they cause the least damage to hair.
Cons:
Costly: While still cheaper than most permanent methods, the Tape in is still a pretty expensive style. However, it's totally worth it.
Need more touch-ups: If you have fast-growing hair, you might require regular touch-ups and adjustments. Because Tape ins are attached to the roots, they can shift and move farther down when hair grows.
Needs special care: Although Tape ins are not high maintenance, they need to be treated with care during and after installation. For example, there should be no hair washing after 48-hours of installation. You should also stay away from certain oil or alcohol based hair products that interfere with the tape's stickiness and make it pull off.
Removal requires expertise: Tape ins shouldn't be removed by amateurs. You need a special remover liquid to wiggle the tape from your hair.
What makes Goodyard Tape-ins different?
It's obvious Tape in hair extensions should be a staple in your hair extension salon. But you should know that you cannot use any generic type of hair extension. You should always go for quality, and Goodyard hair is all the quality you need.
Our Tape in hair extensions are made with real human hair, specifically Remy hair, which is more natural-looking and lasts longer — so there are fewer touch-ups.Our Tape extensions are the most requested hair extensions in many salons, even more popular than our hair extensions clip in line.
Unlike regular tape-ins with their synthetic hair, all Goodyard Tape in extensions are made with high quality and double drawn Remy hair. This means that each panel is lighter and yet fuller, so they don't weigh down on the scalp. Our Tape ins are also constructed with flexible thin tapes that can be customized into any hairstyle you so desire.
Here's what we guarantee when you buy a Goodyard Tape in hair extension:
Professional salon quality
Pre-taped and ready to apply
Strong customization service
Tapes made in the USA
Quick delivery
So, don't disappoint your clients. Make sure that when they search "hair extension salons near me with tape ins," your name pops up first. And don't go for any old Tape ins, go with Goodyard.
Comment