Machine-Tied Wefts VS. M-Tied Weft VS. Hand-Tied Weft: Looking for the Best Option
Jul 15,2023
There are numerous things to consider when deciding between hand-tied, m-tied, and machine-tied wefts. Certain of these aspects concentrate on hair extension prices and how wefts are created in comparison to the requirements of the customers. Wefts have been on the market for at least 50 years and were commonly used to treat hair loss before becoming popular as a fashion trend. The hand-tied, m-tied, and machine wefts can be viewed as one at first glance, as they appear very similar. However, there are important distinctions between the these hair extension wefts. Let's eliminate the confusion!
Machine-Tied Wefts
Machine-tied hair extensions refer to items that have been sewn or wefted to make the hair extension bundle. Hair is loosely woven through an embroidery machine to secure a stitch at the bundle's roots to ensure that hair extensions are secured. Each hair bundle is then folded and stitched to form the final machine-wefted extensions.
Hand-Tied Wefts
Hair is hand-tied to an individually sewn weft by a skilled technician. This particular attention to detail guarantees that the hair is more securely secure and doesn't shed, making hair extensions last longer. They're also lighter and flatter and less flexible than most wefts, which allow the hair extensions to lie more closely to the scalp and give the appearance and feel.
Furthermore, it is advised that hand-tied wefts should not be cut to the desired length. If you do this, the weft to tear and result in the shed. Hand-tied wefts are usually wrapped in smaller widths to avoid this issue and are installed accordingly.
M-Tied Wefts
The M-tied weft, also known as Micro-tied weft, is a brand new weft that combines the benefits of hand-tied and Machine wefts to produce hair extensions that are not just affordable but is also best for thin or light hair. Micro wefts are described as an amalgamation of a hand-tied weft and a machine weft with an ultra-thin weft that can be cut to fit the client's head. M-tied wefts also allow the possibility of mixing different colors within each row to create a natural look. The hair extensions are created without any glue and are suitable for your hair. Though it's made with a machine, which makes it more affordable, it still has the natural feel and looks of hair tied by hand, so you're getting the most natural of both.
M-Tied Wefts VS. Hand-Tied Wefts VS. Machine-Tied Weft
Many people are unsure of the differences between machine-tied, m-tied, and hand-tied wefts. While, at first glance, they appear very similar, however, there are a few distinct differences between these types of hair extensions.
● Cuticle Vs. Non-Cuticle
Hair tied with machines is typically more cuticle-processed. Although hand-tied wefts typically consist of Remy hair with cuticles, hair in machine wefts is acid washed to get rid of the cuticles. There is no guarantee that cuticle aligning is needed to trim the fold-over roots. M-tied hair extensions don't come with return hairs. The return hairs tied around the weft of hand-tied extensions could be very irritating in many ways. Some complain that their hair feels itchy against their scalps and gets caught in their natural hair.
● Cutting
Because of how hand-tied is constructed, you cannot cut the weft. Cutting this kind of weft could make it untidy. Machine weft is designed so that cutting is easy. This is the reason why hand-tied wefts come in pre-cut wefts that are prepared for use. Machine wefts are, however, available as a large weft that you can cut to the same length of the hair. The M-tied weft hair extensions are a fantastic and secure investment. They're solid and durable and may be cut at any time for easy personalization. Therefore, it's no surprise that many stylists prefer Micro-tied extensions over traditional wefts.
Benefits of Hand-Tied Weft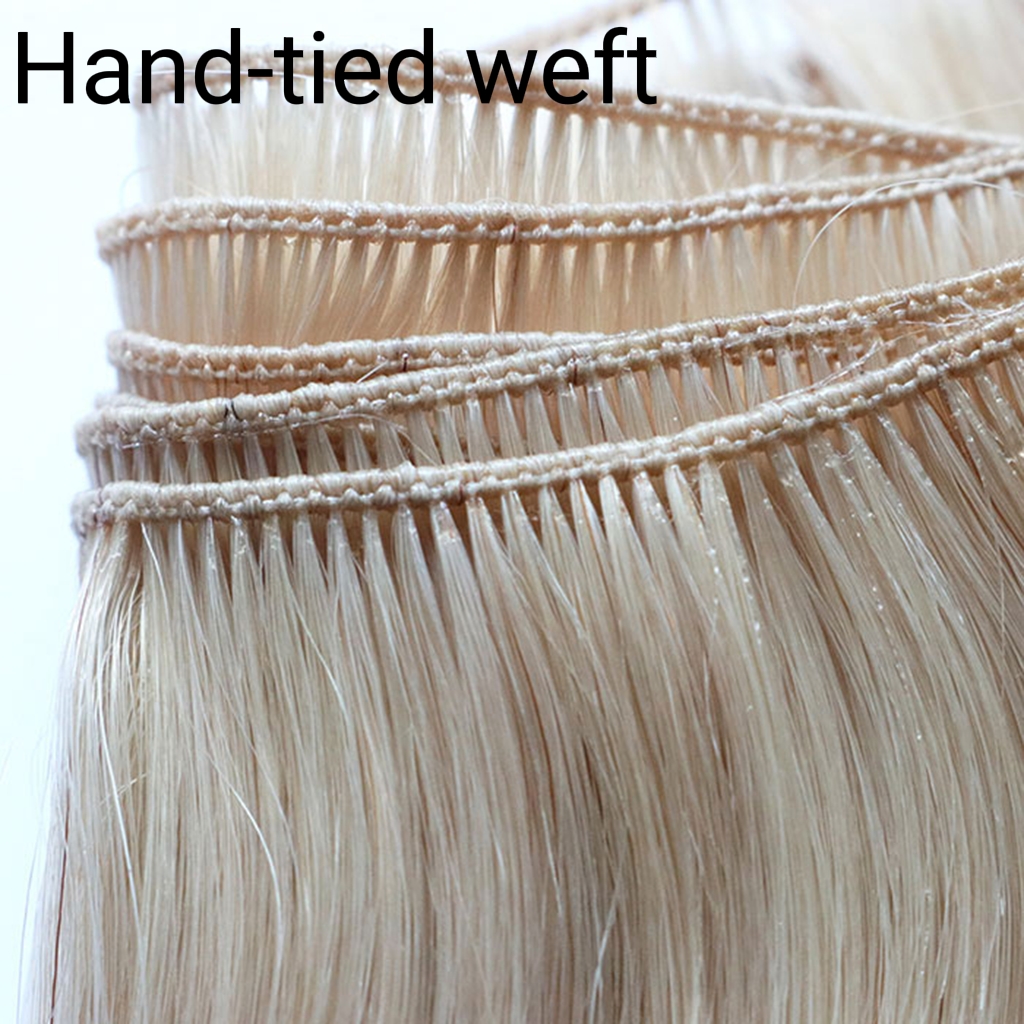 ● Convenience
The hand-tied extensions will last between 6 and 12 months if properly cared for. You can wake up and cut your hair the way you would normally without stressing about how to install hair every day. Even after nine months, the extensions you tie yourself are able to be reused. However, this depends on the level of care you give to your hair. The most appealing aspect of the hand-tied extensions' installation is that they do not require heat or glue. They can be installed easily without harming the hair. From installation to maintenance, the hair is made to make it easier for you.
● Comfortability
The hand-tied wefts have great flexibility and are the most flexible hair weft available. Wefts that are flat and machine wefts are denser and voluminous, and the weft doesn't move as smoothly as the hand-tied weft can. This makes handstitched wefts one of the comfiest and most simple to tie into high ponytails and hairstyles.
Benefits of Machine-Tied Weft
● Density
The machine weft is very thin, delicate, and light. Each hair weft is just 0.7 millimeters thick and 2 millimeters tall. It gives that perfect density to the hair without making it heavy or causing any damage to your hair. It's also extremely elastic and customizable to fit different hair extension styles.
● Easy Application
You don't need to think about whether you need to get any special training or technique from hair extension salons near me to set up the machine weft hair extensions or not. It's easy to install and compatible with various installation techniques. Stylists are able to use standard hairstyles when installing the machine-tied weft. Hairstylists and salons inspire creativity using sturdy yet smoothly sewn hair wefts.
Benefits of M-Tied Weft
● Quick Application
The method of applying m-tied wefts is significantly faster than other methods. Since fewer micro rings are attached to the hair wefts, this drastically reduces the time to fit. The hair weft is laid horizontally on top of the head. Hair in small pieces and hair pulled from the weft is gently removed by micro rings secured by clamps to keep the weft.
● Lifespan
The main advantage of m-tied weaves is their longevity. They are more durable and don't shed as fast as hand-tied wefts. Because machines create M-tied Weft extensions, they are more durable than hand-tied ones and can last longer when reused. The time-to-live of m-tied hair is between 5 and 9 months. It could last for many months provided it is properly maintained. To extend its lifespan, it is suggested to trim the length every three to four months to ensure that the ends are healthy. Maintain vitality by refreshing the tone or color when needed.
Conclusion
With all the options in the market, it could seem overwhelming to figure out what method is the best for your hair, style, and budget. Selecting the right weft hair extension technique for your hair is vital to the health of your hair. Making a choice excessively heavy on hair's natural structure could cause damage which is not something we want to do. Salons and hairstylists recommend tape-in, machine-tied, m-tied, and hand-tied wefts and hair extensions clip-in to ensure that they are suitable for the majority of customers.
Today m-tied wefts are becoming very popular worldwide, especially within the American market. However, it is a hotly debated topic within the hair extension salon to choose between these three kinds of wefts that are hand-tied, m-tied, and machine weft. There are pros and cons to all of them. Understanding the differences can help you decide which is better.
Comment