8.5"*9" Mono Top Human Hair Topper: The Best Choice for Natural-Looking Coverage and Versatility
Jul 28,2023
If you're one of those people, the 8.5"*9" Mono Top Human Hair Topper may be good news. The psychlogical consequences of hair loss or thinning hair can be disastrous causing a loss of self-esteem and confidence. Constant anxiety and worry about one's own identity can be exhausting. Despite these difficulties, we shouldn't give up hope. The 8.5"*9" Mono Top Human Hair Topper shines, providing a life-altering possibility of regaining one's inner confidence and appearance.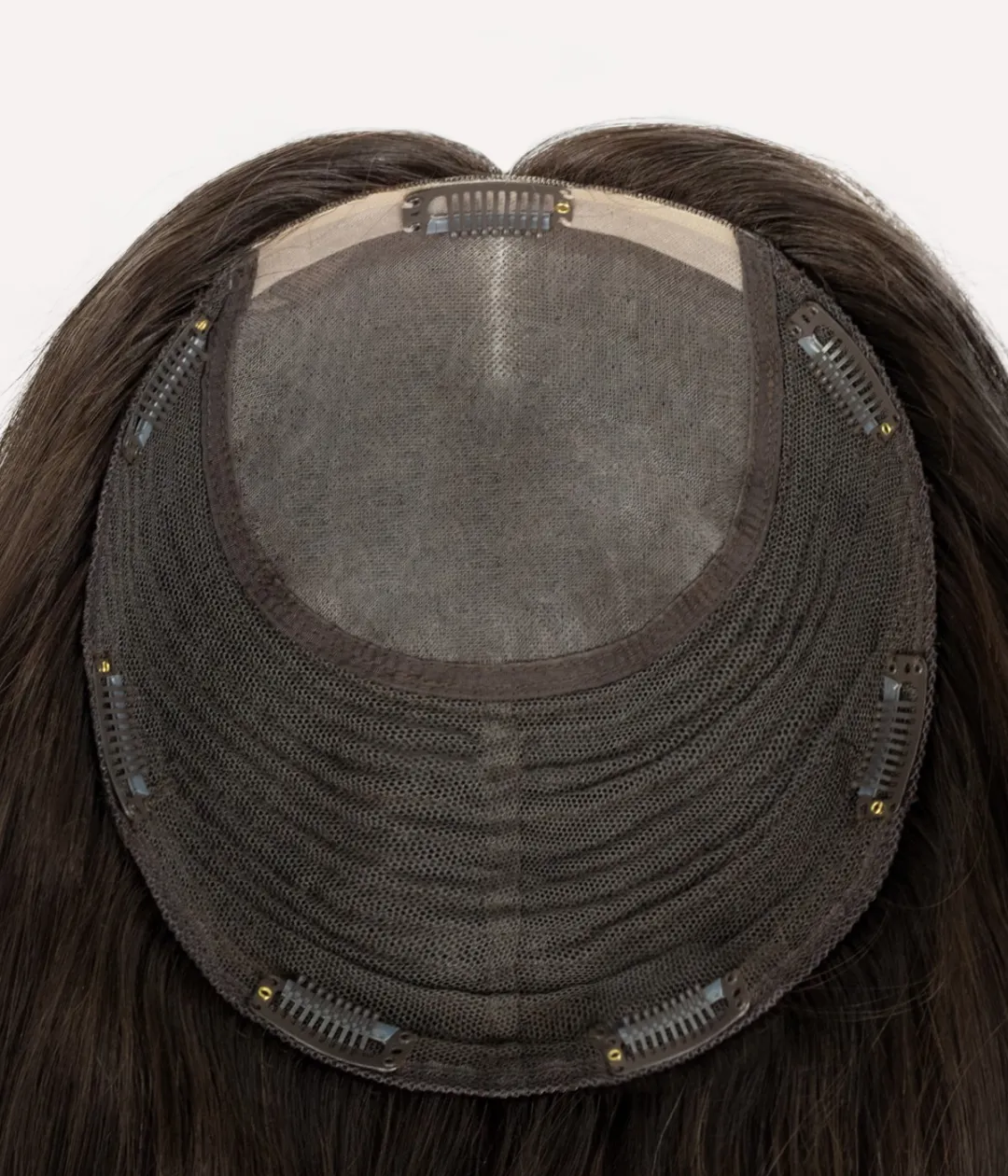 Numerous women experiencing alopecia or hair loss have discovered this groundbreaking product to be transformative. Meticulously crafted, the hair topper seamlessly integrates with your existing hair, creating the illusion of a perfectly natural hairline. Within this article, we will explore the myriad of ways this premium hair extension can enhance your life, showcasing why it stands as the ultimate choice for unlocking a world of styling possibilities and achieving a fuller, more voluminous hairstyle. Whether it's to mask a receding hairline or to add volume to thin hair, the 8.5"*9" Mono Top Human Hair Topper offers a true makeover that allows women to be herself with renewed trust and a lasting feeling of attractiveness.
1. Understanding the 8.5"*9" Mono Top Human Hair Topper:
The 8.5"*9" Mono Top Human Hair Topper stands as a testament to meticulous craftsmanship, tailor-made to cater to the unique needs of women facing hair loss or thinning hair. With utmost precision and care, this exceptional hairpiece offers a seamless solution that restores confidence and beauty. The topper's monofilament base enables limitless styling possibilities while creating an illusion of a natural scalp, rendering it virtually undetectable even upon close inspection. Whether facing receding hairlines, patchy areas, or overall thinning, this hair topper embraces every challenge with grace and authenticity. Its versatility empowers wearers to experiment with various hairstyles, effortlessly enhancing their natural beauty. Embrace the confidence of knowing that the 8.5"*9" Mono Top Human Hair Topper is there to uplift your spirits and restore your radiant self, transcending hair loss woes to unveil a newfound sense of empowerment and pride in your appearance.
2. The 8.5"*9" Mono Top Human Hair Topper Use The 100% Remy Human Hair:
At the core of this incredible hair topper is 100% Remy human hair. Remy hair is sourced from a single donor and processed to ensure that the hair cuticles remain intact and aligned in one direction. This unique manufacturing process prevents tangling and matting, providing a smooth, soft, and natural appearance that closely resembles your own hair.
3. Natural-Looking Coverage for Various Hair Loss Conditions:
With its ample dimensions of 8.5"* 9", this hair topper provides extensive coverage for individuals facing hair loss in the top or crown region. Whether you're grappling with pattern baldness, thinning hair, or alopecia, this hairpiece is expertly crafted to harmonize flawlessly with your natural hair, delivering an effortlessly voluminous and natural appearance.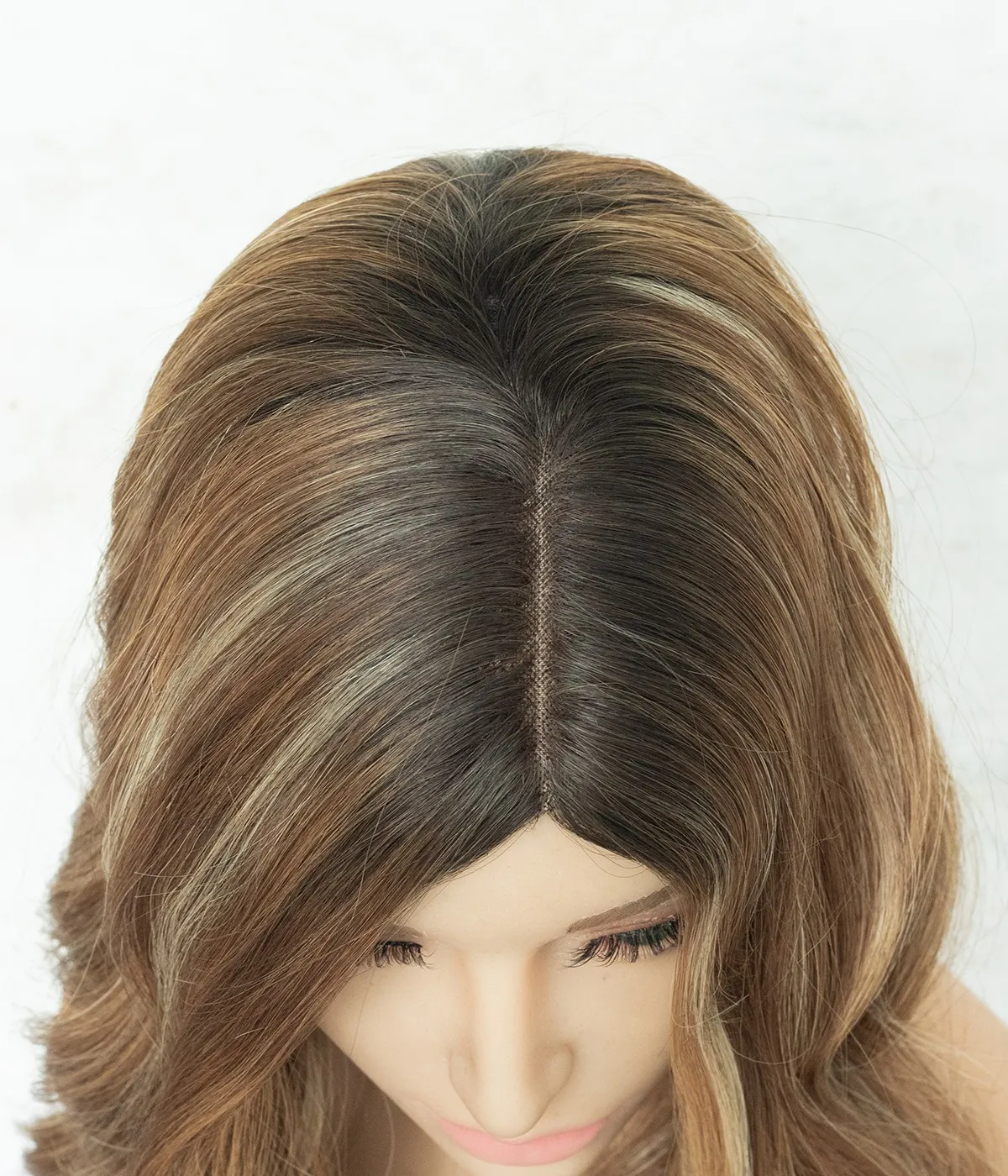 4. Versatility: The Key to Endless Styling Options:
The 8.5"*9" Mono Top Human Hair Topper boasts remarkable versatility as one of its key advantages. With this hairpiece, you can effortlessly sport various hairstyles without any concerns about harming your natural hair. Whether it's coloring, cutting, or styling, the topper can be customized to match your desired look. Whether you fancy straight, wavy, or curly hair, this hairpiece can be tailored to suit your individual preferences, granting you the freedom to experiment with different styles and change up your appearance as frequently as you desire.
5. The Perfect Solution for Special Occasions:
Whether it's a wedding, a party, or an important business event, the 8.5"*9" Mono Top Human Hair Topper can be your secret weapon to achieving a flawless look. Enhance your natural beauty with this hairpiece and enjoy the peace of mind knowing that your hair will look perfect throughout the event.
6. Boosting Confidence with Ease:
Dealing with hair loss can take an emotional toll on one's self-esteem. However, with the 8.5"*9" Mono Top Human Hair Topper, you can regain your confidence and feel like yourself again. Its natural appearance, comfortable fit, and easy application will make you forget that you're wearing a hairpiece, allowing you to embrace daily activities with confidence.
7. Caring for Your 8.5"*9" Mono Top Human Hair Topper:
Maintaining the longevity and beauty of your hair topper is essential for a continued natural appearance. Proper care and maintenance involve regular washing and conditioning, just like your natural hair. Follow the manufacturer's guidelines and use suitable hair care products to ensure your hair topper remains in top-notch condition.
8. Investment in Quality and Durability:
The 8.5"*9" Mono Top Human Hair Topper is an investment worth making. Unlike synthetic alternatives, which tend to wear out quickly, Remy human hair is durable and long-lasting, ensuring you get the most value for your money. Its premium quality also means that it won't lose its shine or softness, providing you with a consistent and beautiful look for an extended period.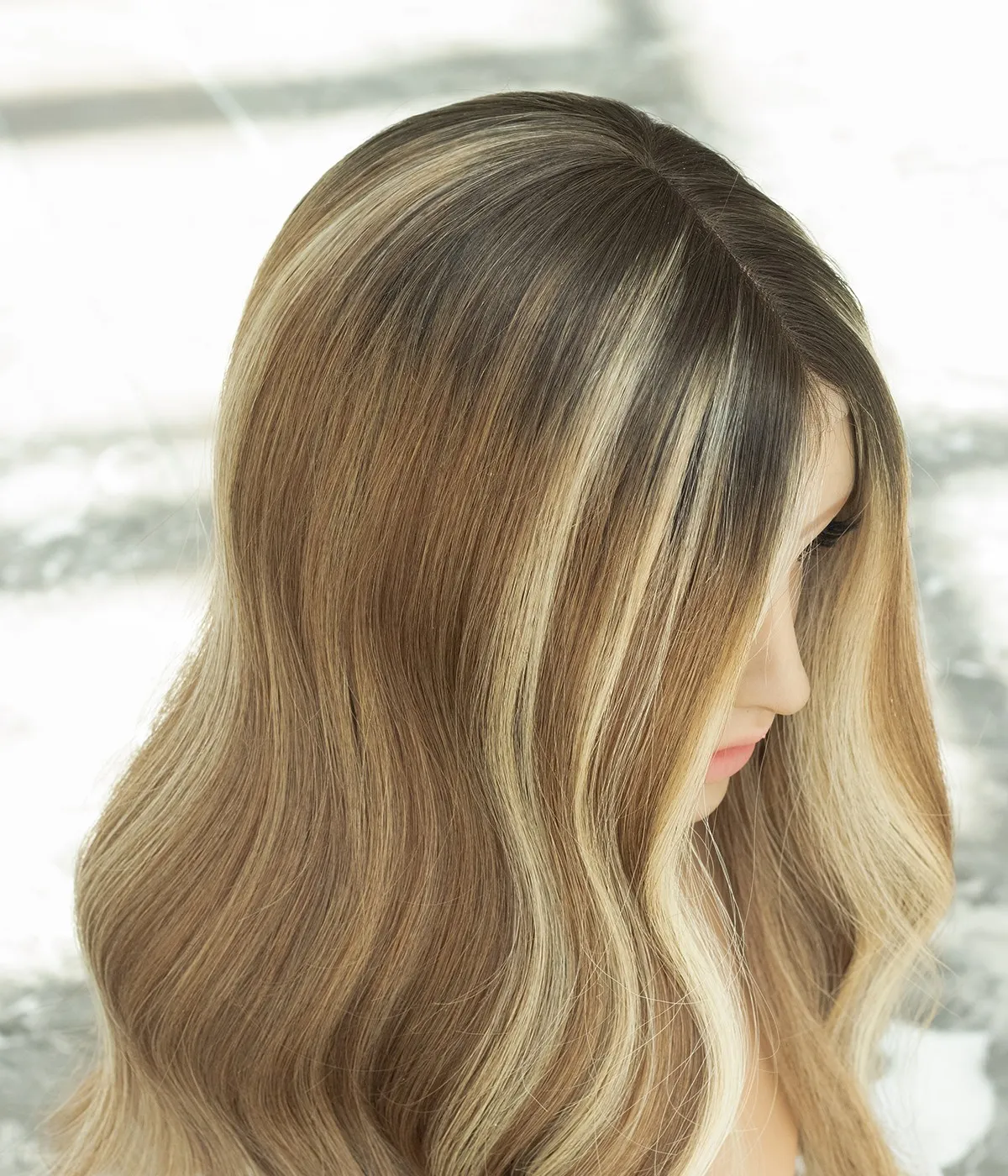 To sum up, the 8.5"*9" Mono Top Human Hair Topper surpasses all expectations as the ultimate solution for women grappling with hair loss or thinning hair. Its unmatched natural-looking coverage effortlessly conceals bald spots and thinning areas, providing a transformative boost to self-confidence and self-esteem. The hair topper's remarkable versatility allows for endless styling options, enabling wearers to express their individuality and experiment with different looks. Crafted from premium quality Remy human hair, it replicates the texture and shine of natural locks, ensuring a seamless blend with existing hair. Moreover, the ease of maintenance grants convenience and simplicity to daily hair care routines. Embracing this game-changing hair topper is akin to unlocking a newfound sense of empowerment and beauty. Whether it's a special occasion or just an ordinary day, rest assured that the 8.5"*9" Mono Top Human Hair Topper will make you look and feel your absolute best, radiating confidence and grace with every step you take. Say goodbye to hair worries and hello to a life filled with renewed confidence, knowing that you possess a stunning head of hair that complements your unique personality and style. With the 8.5"*9" Mono Top Human Hair Topper, a world of possibilities awaits, where you can confidently express yourself and rediscover the joy of having a beautiful, voluminous head of hair that feels entirely your own.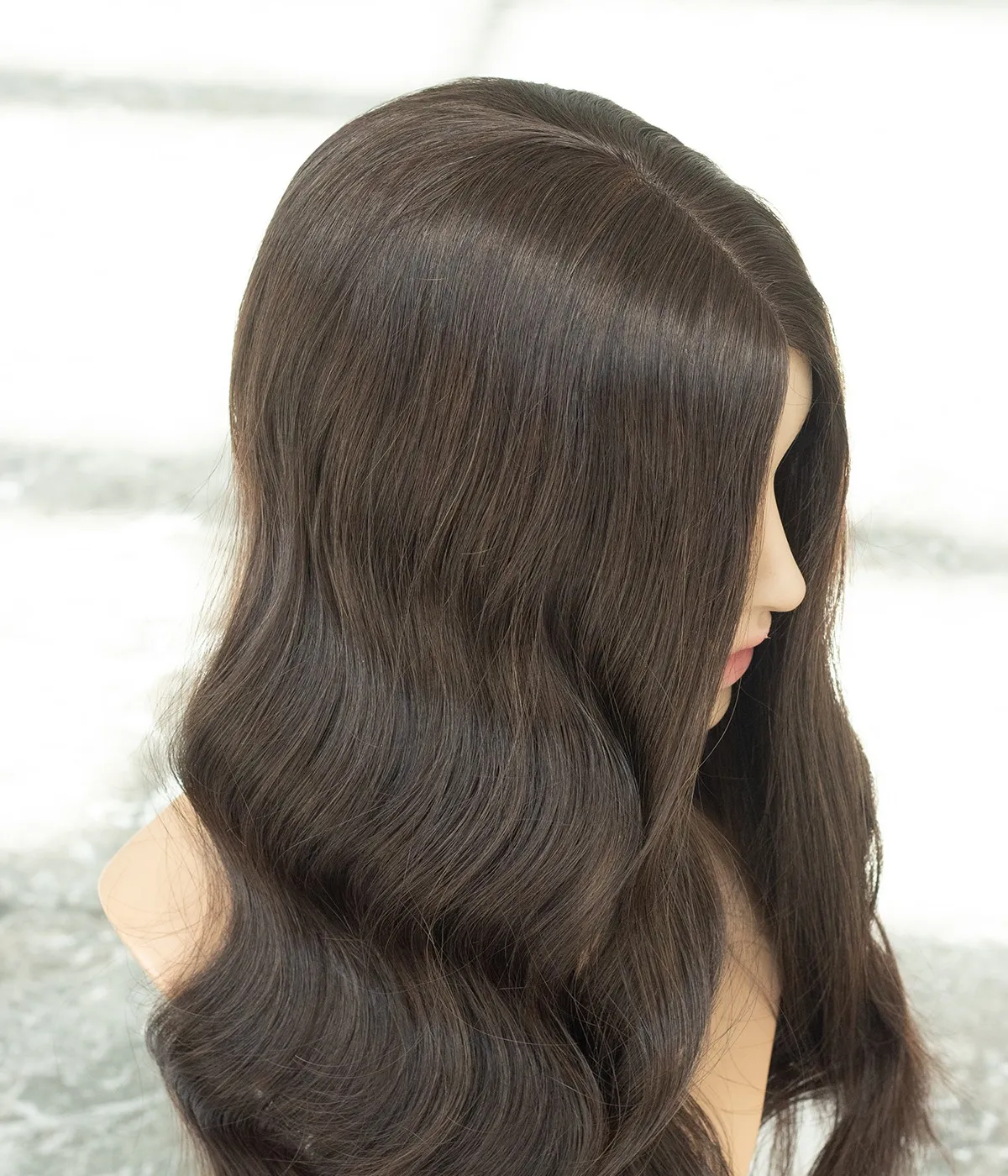 Comment