Do You Need a Stylist to Make the Topper Look More Natural?
May 25,2022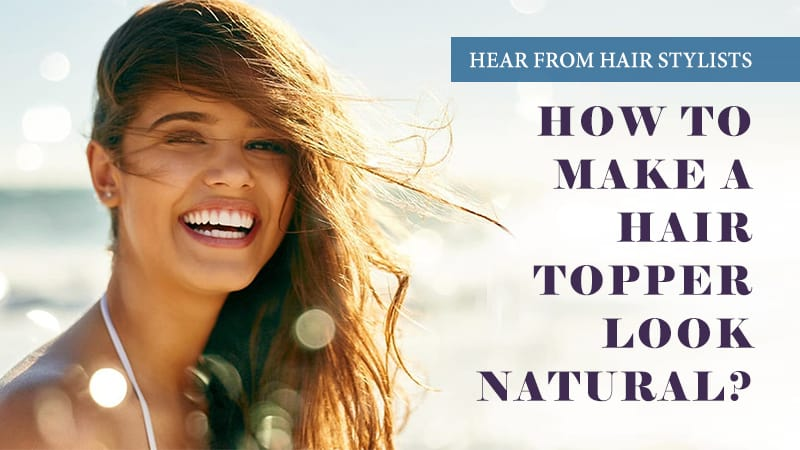 Hairstylists are beauticians that specialize in hair styling and treatment. Hairstylists clean and trim hair, give hair care and style services and suggest products. There are many reasons why a stylist is required to make the topper look more natural. You may believe you're saving money by applying a hair topper yourself, but if you don't do it correctly, you will likely damage your hair and pay extra to get it fixed.
We Need a Stylist For:
Here are the top reasons why you should go to a stylist.
· Trimming of Hair Topper
In most cases, the hair toppers will need to be trimmed. For this step, you'll need a stylist. If you're courageous enough, you can always do it yourself! Most individuals lack the confidence to use scissors. Therefore, it is best to bring in a professional. The lengths of toppers range from 3 inches to more than 20 inches. If you choose a long topper, you may have to trim a few inches off your hair.
You'll want a topper that matches your hair's layers, too. See if you and your stylist can come up with a look for your topper that you both love! Determine what needs to be modified when everything is in place. Should the topper be trimmed down at the base to make it more manageable? Do you need more layers?
· Coloring the Topper
A stylist knows how to cut and color hair toppers for women. Generally speaking, they have more experience dealing with hair loss issues. Your stylist will inquire about the kind of hair used in the wig's creation. They'll also want to know what color you have now and what you'd want to change it to.
Most hair that is lighter in color has been treated. Using bleach to lighten a wig is not a good idea, so don't do it. Stylists believe it's OK to use lowlights. Before dyeing the whole head, the stylist will do a few spot checks. If you're wearing an integrated hair topper for women or wig, it's best to match your natural hair.
· Applying Makeup Along the Hair Line
If your hair topper has clips, it's likely to have lace netting beneath it to keep the hair in place and keep it from falling out. Once your stylist puts your hair topper, the lace or netting may sit uncomfortably on your hairline, making the hair toppers for thinning hair noticeable.
Your hairstylist should be able to fix this problem by using a concealer or foundation that is a good match for your complexion and dabbing it lightly around the hairline of the topper. The hairstylist's job is to soften the topper's look by applying a little layer of makeup over the top of your skin and the hairspray. To keep the concealer in place throughout the day, use a translucent setting powder on top of the makeup.
· Use of High-Quality Products
Our hair is just what makes us distinctive. Using the best products is essential to get the most out of your investment. Every hair type and style may benefit from the use of high-quality beauty products. A decent hair topper for thinning hair may provide the appearance of more volume and body, but this is just a short-term fix. The topper must be created with materials that can withstand high temperatures and do not cause your natural hair to get damaged if you want it to last.
When it comes to their hair, women constantly seek methods to make it seem thicker and more voluminous. A stylist may accomplish this by using a vast number of techniques, such as the application of style sprays, the use of dry shampoo, or the use of curling irons that are heated to different degrees.
Tips From Stylist For Topper To Look Natural
Women who can't wait to get longer hair have been going to the salon in large numbers to have their hair permanently altered to achieve the ideal combination of length and style. However, how can you create hair toppers near me that look natural, sturdy, and smooth? ' Keep these tips in mind while caring for your topper.
· Always Keep Your Hair Topper Clean
Keep your hair topper clean to make it seem natural. Experts recommend washing natural hair or wigs three times a week. This is a way to take care of your hair that cleans your scalp and hair without making them feel dry. In order to get soft, fluffy hair, you should follow up your shampooing routine with a hair conditioner or a hair oil or lotion.
· Use A Wide-Tooth Comb To Brush Your Hair
When it comes to combining a hair topper for thinning crown, you should stick to a schedule. It would help if you always used a comb or even a wide-tooth comb to brush your hair. When combing your hair with one hand, carefully comb from the hairline to the tail to prevent hair from falling out of the joint.
· Dry Hair Properly So That the Hair Topper UK Seems Natural
Wipe your hair dry after washing it with a soft towel. Hair may become tangled in the joint if it isn't combed while still wet. Natural drying or a low-temperature hair drier are the best options for ensuring that your hair is not harmed. It is thus necessary to dry the preceding joint before proceeding to the remainder of your hair.
· Before Bed, Dry Your Hair
Before going to bed, blow-dry or allow your hair to air dry naturally. If your hair is wet during the night, it is more likely to tangle and eventually fall out in a knot. Unnatural and unflirtatious black hair will be the result of this treatment.
· Avoid Using Excessive Force On The Hair
Allowing yourself or others to pull on your hair may cause the joint to expand, resulting in your hair being damaged. Using this approach to hair care is a simple yet accidental way that might make your hair worse.
· Braid Your Hair
Pledge is an excellent method to keep your hair out of your face while you're out in the fresh air having fun. Experts say that you should wear a swimming cap when swimming in a pool so that things like sea salt or chlorine don't get into your hair. These are the primary reasons for hair damage and thinning, as well as balding.
Conclusion
With the guidance of a stylist, it is possible to get natural-looking results with a hair topper. If you're considering a hair topper, bear in mind that a decent hair topper and a professional hairstylist are essential. If your topper hairpiece is of poor quality, nothing will work. Investing in a high-quality human hair topper and stylist might relieve some of your concerns.
Comment