Nov. 26th, 2018 Bologna, ITALY Cosmoprof Worldwide Bolognal- On Hair Show & Exhibition
Nov 27,2018
Cosmoprof Day 2
The on hair show only take 2 days. The second day , Goodyard team met a very lovely family on second day at Cosmoprof. The mother of the family is a hair salon owner and attended the exhibition with all her family. She had a great interest in our heat resistant synthetic wigs, and almost every family member tried our wigs with her, and the father was one of them J We had a quite a relaxing conversation and the mother bought a pink synthetic wig with all support from her family in the end.
Obviously they love the trendy wigs and hair extensions. Place the trial order at once, prepare for the coming Xmas and new year holidays parties.
Another guest that made me impressed with is another exhibitor from a Milan Hair extension company. He was very professional and conversable. He asked if we came from Qingdao at first and asked a lot of questions about tape-in hair extensions, our warehouse location, delivery time, etc. We exchange our business card with each other. I really hoped we can have further cooperation in the near future.
In our spare time, River and I were willing to bring our catalog books and our business cards to drop in other exhibitors and to talk about their popular hair products and to learn how they set up the booth. At around 5:30 pm, all exhibitors, including us, start to pack up all or the left samples and remove all the display racks and stuff, which signified the Cosmoprof exhibition was drawing to an end.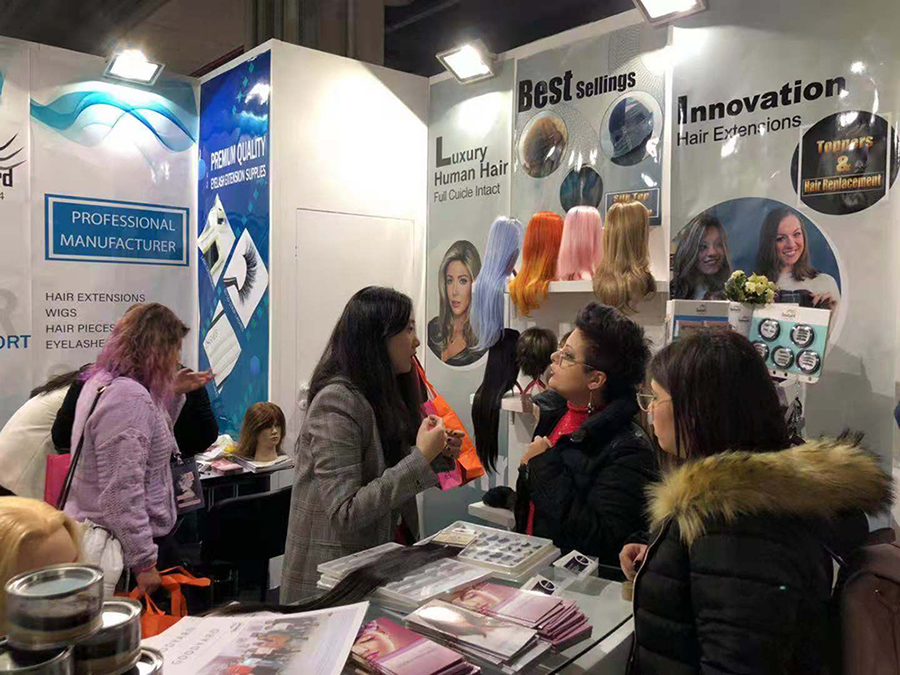 Comment