The perfect hairstylist's guide to different types of weft hair extensions and their uses
May 04,2022

Every stylist wants to give their clients luscious waves of hair that'd put Goldilocks or Rapunzel to shame. You want to be creative and versatile with the hair extensions you install on our customers, and you want them to love it, too.
So, it's important to choose an affordable, durable, and customizable hair extension. But, with numerous options to pick from and the rise in hair extension prices, it can be a tad overwhelming to know which one's right for your customer. You don't want to end up damaging their hair with heavy hair extensions or select the easy clip-in/tape-in way out. So what's the alternative?
Weft hair extensions.
Don't know what that is? No worries, in this article, we will explain what wefts are and what types of weft hair extensions you can pick for each client's hair.
What is a weft hair extension?
You simply can't overlook weft hair extensions when talking about hair extension styles.
Weft extensions are made from tying or bonding strands of hair by hand or by machine onto a horizontal strip of material. The place where the hair and material meet is called a weft.
Benefits of weft hair extensions
Weft hair extensions are quite popular because they're flexible and easy-to-work-with. They are also very durable and can last for a long period of time without needing professional maintenance. Weft hair extensions are also suitable for most hair types and can remain tangle-free for a long time. Other benefits of weft hair extensions include:
.
They look natural and blend easily.
It does not require gums or clips and does minimal damage to your client's hair.
You can customize and easily experiment with weft hair, unlike hair extension clip-ins.
Your client may need fewer touch ups (6 – 8 weeks)
They are durable and can last for about 3-6+ months.
The best part is there are different weft hair extensions to choose from, depending on your client's hair and the style we want. Let's look at them below.
Types of weft hair extensions
A variety of customers visit your extension salon daily,, and they all have different purposes. Some have thinning hair, others have short ones, while some just want to experiment with hair that isn't theirs. However, they all have one goal. They want to look good.
One way to do this is by selecting the right hair extension that complements your client's beauty without damaging their hair. And that's the same with wefts.
There are five different types of weft hair extensions, and they are:
Hand-Tied wefts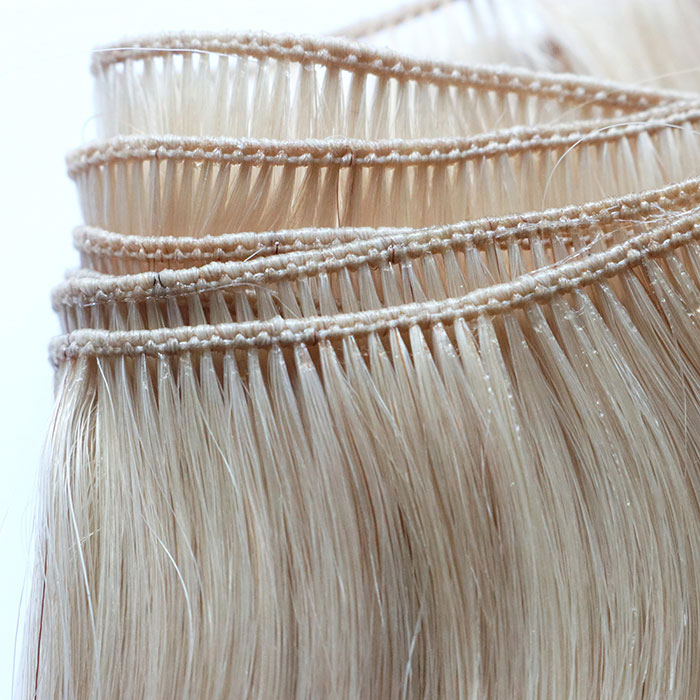 It can be argued that Hand-Tied wefts are the oldest form of wefts. This weft is formed by tying strands of hair to a fine string. Although this method can be tortuously slow because of its manual nature, it also means that each hair is carefully selected.
Hand-Tied wefts are usually soft and thin. They are also tightly-weaved and fine, making them easier to blend.
The Hand-Tied weft is particularly good on fine hair that shouldn't be weighted down. Due to the mode of production, Hand-Tied wefts are typically expensive and extremely delicate. You cannot cut them at random points, or else they shed. They are also not suitable for people who want thick hair, since you'd need to stack several lengths together.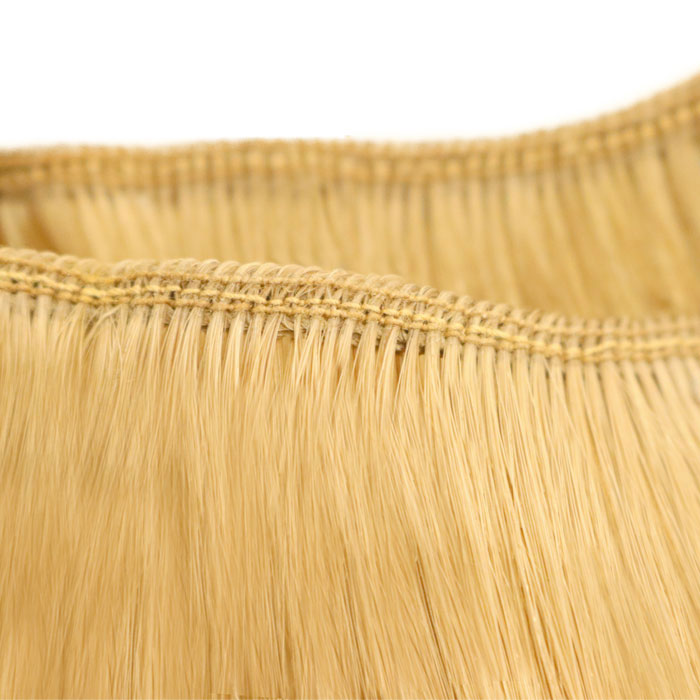 Machine-made wefts are obtained from running strands of hair through a machine that sews them together. The quality of the hair is often not as good as Hand-Tied wefts; they are also bulkier, too. However, unlike Hand-Tied weft hair extensions, Machine-Made extensions do not shed easily and are quite customizable.
Machine-made wefts are typically thick and suitable for people with denser, weightier hair. This thickness means that it may not be easy to blend and will likely show hair return. However, our Machine-Made wefts have a 3 mm super short trimming which blends perfectly with your client's natural hair.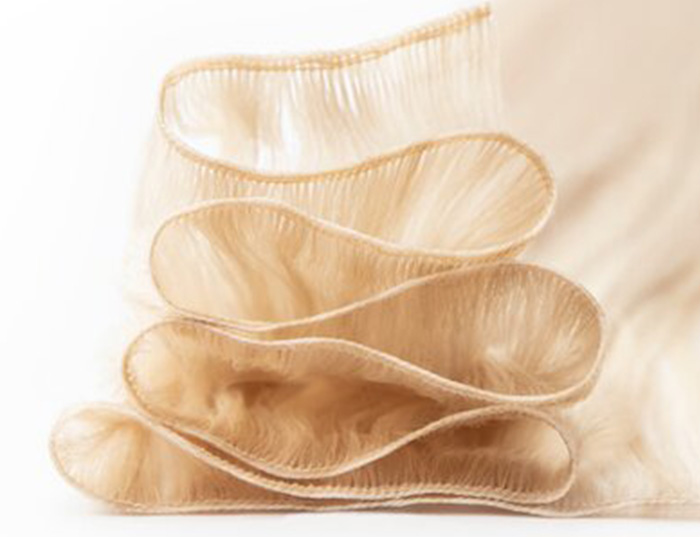 The M-Tied weft is a Goodyard Hair special. It combines all the advantages of Machine-Made and Hand-Tied hair to create an extremely thin, but durable, weft. The M-Tied weft or Micro-weft has a sparser, finer hair, which makes it a good choice for people with wispy lengths. Each weft in M-Tied wefts is only 0.7 mm thick and 2 mm tall; thick enough to give density, but thin enough to blend.
They can also be cut at any point and require no additional training to install.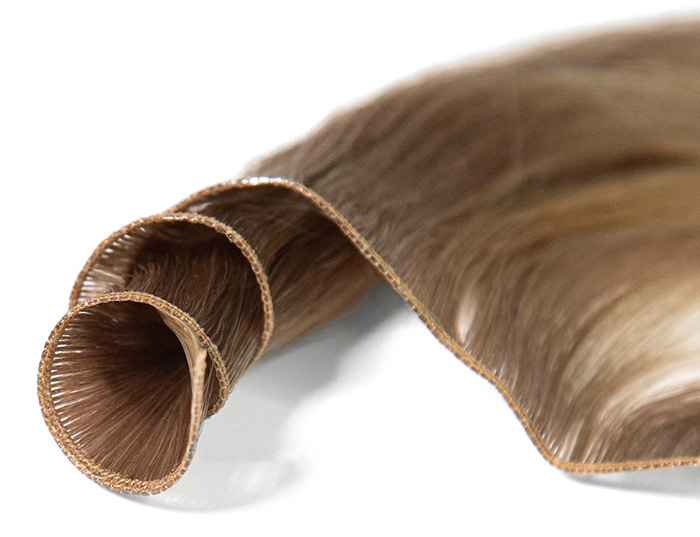 The Genius wefts is another new kind of weft. It looks like a hybrid of the flat weft and the Hand-Tied weft. Genius wefts are different from Hand-Tied wefts because they are sewn by machine. They also sport a much thinner weft than flat wefts.
Since they're incredibly thin, Genius wefts are often described as invisible. Their lightweight features make them the favorite wefts for all hair types. Genius wefts also lay flat against the hair and can be customized.
It is the flattest and lightest weft, measuring only 0.8 mm thick and 1.7 mm tall. This practically undetectable weft has no return hair, which eliminates discomfort to the delicate scalp.
Genius wefts are compatible with various installation methods, and stylists can use the same technique they use when installing a Hand-Tied weft.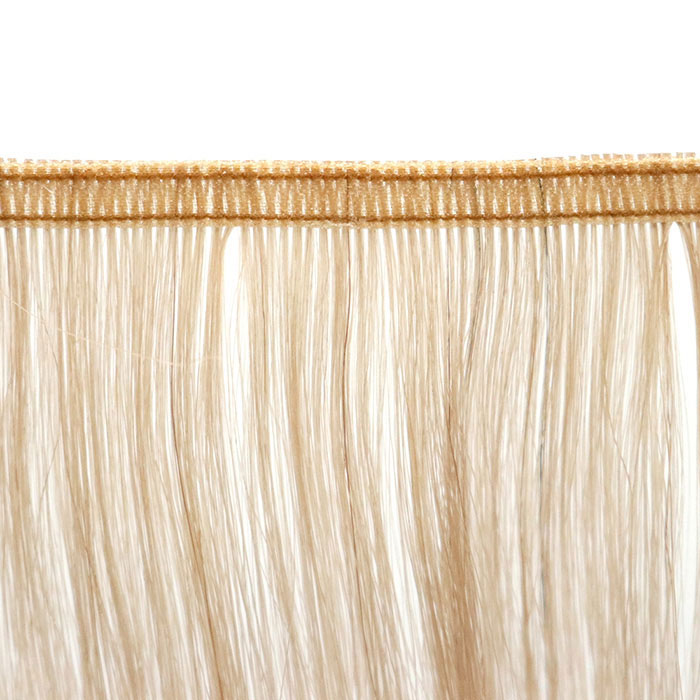 Flat wefts are formed by sewing strands of hair over a thin silk strip. The soft material means that this weft hair extension is extremely flexible and lays flat against the scalp. Since it is 30% thinner than regular wefts, it blends easier with natural hair and there are no messy ends peeping through your client's locks.
The Flat weft has no hair return too, so there are no itchy bits poking at your scalp. And of course, you can cut it freely.
What kind of weft hair extensions should you use in your salon?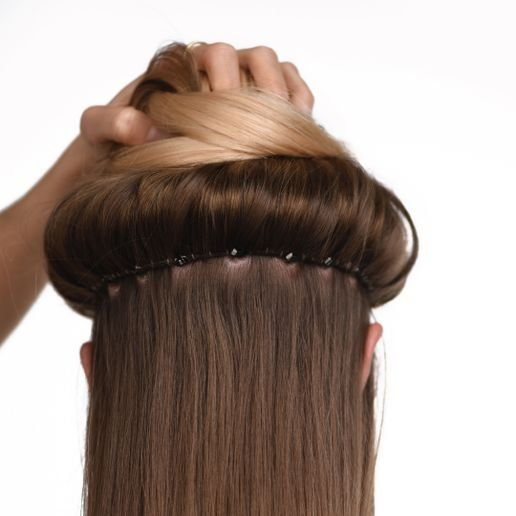 Each type of weft has its unique uses and advantages. They also have different disadvantages too. The Machine-Made weft is not suitable for thinning hair, neither are Hand-Tied extensions the best option when going for volume. It is left for you to decide which weft best suits your customer's needs.
However, whatever weft hair extensions you choose, always go for the best. At GoodYard Hair, we provide pure virgin, virgin, and common Remy weft hair extensions for hair salons and stylists.
Goodyard hair is ethically-sourced, 100% High-quality Cuticle human hair processed under the strictest quality and health standards. We also offer customization services, like branding your stock and building your website, so you rank better when clients search "hair salons near me."
We can provide you with a steady supply of hair extensions, no matter what amount of weft hair extensions you require. Don't fret, trust your stylists instincts and go make your own order now.
Comment