The secret behind keratin bonded hair extensions and why stylists love them!
Jun 15,2022
Keratin bonded hair extensions are the cadillac of extensions. In fact, no list of hair extension wefts is complete without its wonderful, luxurious decadence. It is the go-to hair extension type for most celebrities because of its versatility, durability, and all-round gorgeousness.
No wonder stylists are crazy about them.
In this article, we'll show you all you need to know about this wonderful piece of hair magic, and why hairstylists all over the world love keratin bonded hair extensions.
What are keratin bonded hair extensions?
Keratin hair extensions are made up of a small bunch of hair held at the top by a keratin glue, and is sometimes accompanied with beads too. These strands of hair extension are glued to natural hair using the keratin adhesive. This is done by melting the glue with hot pliers and 'bonding' it to your hair. Also, individual keratin bonded bunches are meticulously positioned in rows to ensure that they are constantly covered by your natural hair parts. So, you don't have to worry about revealing extensions when carrying a ponytail.
Keratin bonded hair extension wefts are of different types; the most popular ones include the I-tip, U-tip, and the V-tip. Keratin bonds are classified under \ permanent hair extensions, and can typically last for 3–5 months, depending on the client's maintenance routine.
Due to their almost natural look and the fact they also helped with some of the most fabulous hair extension styles ever, keratin bonded extensions are amongst the priciest extensions you can find when you check hair extension prices.
What makes keratin bonded hair extensions great?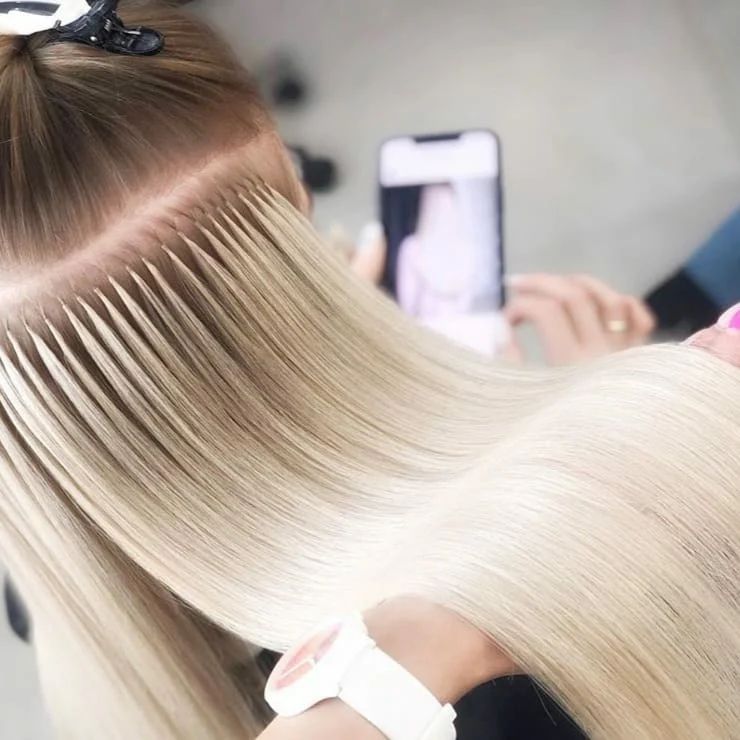 Celebrities love it! If that isn't enough to have it in stock, then we have more. If you're looking for a hair extension that will increase your hair's volume and still look like it's all yours, keratin bonded hair extensions are definitely your best choice.
No hair extension salon is complete without keratin bonds, and it's not just because they are beautiful. Here are other reasons why keratin bonds are the best for stylists:
No special training: Installing keratin bonds is an easy process, and doesn't require any complicated steps. You should be careful though. Using a very high heat plier to melt the glue can cause hair damage and burns if not properly handled.
Low maintenance: Keratin bonded hair do not need as much maintenance as other kinds of hair extensions. You can simply care for it by washing with water or gel-based products, braiding hair lightly before going to bed, and combing gently. Seriously, no yanking. You should also:
Wait two days before washing your hair after installation.
Use light shampoos and gentle conditioners.
Avoid heat, especially too close to the roots.
Durable: Keratin bonded hair extensions are permanent and durable. In fact, you can carry your keratin bonded hair for up to 5 months before booking an appointment with the stylist. But be sure to check what sort of glue is used on the wefts. The two most common keratin glues are the Chinese and Italian glue. Always go for the Italian glue, it is way stronger and lasts longer than the Chinese bond.
Customizable and Versatile: With keratin bonds, your imagination is your limit. They can be styled into many styles unlike many temporary types of extensions.Keratin hair extensions may be air dried, straightened, curled, and styled with heat exactly like any natural hair. Keratin is also versatile and can work with many hair types and lengths. You can even install it with as little as 4 inches of hair.
Natural looking: Speaking of natural, keratin hair extensions blend smoothly with your hair and are indistinguishable when installed well. Because they lie against the scalp, they don't stand out like other wefts — we're looking at you, hair extensions clip in.
Safe on scalp and hair: Keratin is one of the proteins present in our body, which help our hair grow. This makes it okay for your scalp. Keratin extensions are not as heavy as other extensions too, and won't cause tension alopecia.
But remember, if hair is installed improperly, it might cause hair loss from the weight or some other hair problem.
Why you should use Goodyard Keratin Bonded hair
So, we've shown you how great keratin bonded hair extensions are, and why you and your clients would absolutely love it.
However, it's one thing to know about these beautiful extension styles, and it's another to pick the best keratin bonded hair extensions. To save you this trouble, and provide you with the best keratin bonded extensions ever.
Goodyard keratin bonded hair is made of pure virgin remy hair and authentic Italian glue, so it's very durable.
Other important features that rank our keratin bonded hair extensions higher than any other supplier include:
It can be styled, bleached, or colored
Every strand conforms to the standard size
Our hair is anti-shedding, flexible, and durable
We also provide essential salon services, especially for stylists starting our. They include:
● Salon Professional Support
● Basic colors for various extensions available
● Semi-finished products to guarantee quick shipment, and
● An experienced Sales Team & QC Team
Like we said at the beginning of this article, keratin hair extensions are incredible. They are investments that'll surely pay off, especially on a "hair extension salons near me" Google search. And they are gorgeous investments that you should absolutely stock up with.
Remember, always shop for quality. Start browsing through our Keratin Bonded Hair Extension catalogue now.
Comment