Top 5 Celebrities who rock the coolest ponytails we've ever seen!
May 06,2022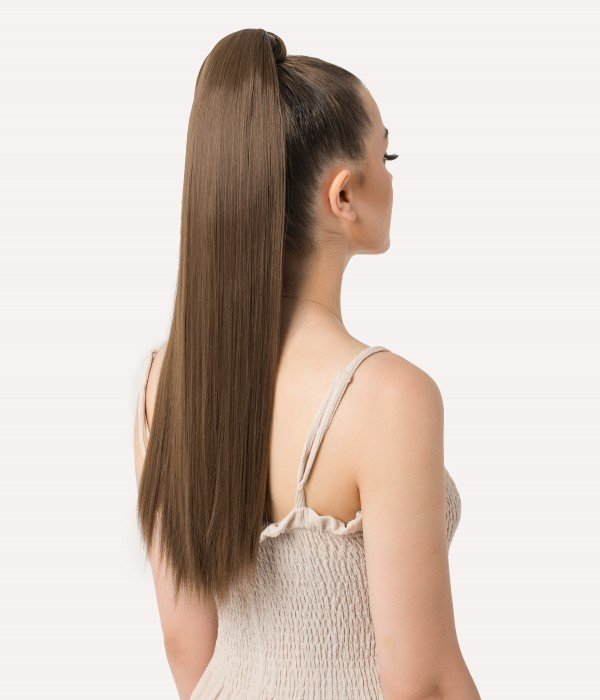 Many of us grew up trying to imitate celebrities with their trendy hairstyles and complicated dos. There was the cute Rihanna pixie cut, and the iconic crimping inspired by artists like Britney Spears in the early 2000s. In those days, neighborhood hair salons had pictures of actresses and singers up on their walls, to inspire their clients with the latest hairdos. It was a time to be alive.
But that time isn't over yet. Even today, our fashion and hairstyles are inspired by the gorgeous icons on our screens and social media. And every day, thousands of people all over the world try their best to recreate that perfect swish or that luscious flip that their fave singer wore in a recent music video.
In this article, we will focus on one of the most versatile hairstyles ever recreated: the ponytail. We will also look at 10 iconic celebrities that have shaped how we look — and recreate — ponytails.
Celebrities with the bestest ponytails
Ponytails are simply the best. They combine simplicity with versatility by allowing you to easily pull your hair back and tie it off in whatever style you want. One of the best things about ponytails is that you can customize it to fit any look, be it sleek or casual.
Celebrities know this, and have consistently fallen to the trusty ponytail for different occasions. Some have even made it their trademark — we're looking at you Ariana. But that's not even the best part. We'll let you in on a big secret, so come closer. Not all ponytails are natural, some have natural-looking extensions added.
Gasp!
Yes, your favorite celebs also appreciate the goodness of hair extensions. So, stop stressing yourself trying to get that exact ponytail look with just your natural hair, you can use extensions too! They're easier and will help protect your hair from dyes and other chemical damage.
Now we've told you the secret behind that complex ponytail you've been trying to replicate, let's look at some famous celebrities who rock some of the awesomest ponytails we've ever seen.
Lady Gaga:
The "Bad Romance" crooner is a ponytail fave. She has this uncanny talent of switching an ordinary ponytail style to something out of a futuristic replica of Mars. Gaga leaves no stones unturned when making masterpieces out of her hairdos, ponytails included. She's been seen spotting styles in a variety of colors with different types of headdresses and accentuating accessories. An example of one of her newsworthy looks was her massive rainbow-colored ponytail which she sported in Tokyo. Her extension-enhanced ponytail began on one side of her head and wrapped around to the other in vibrant ROYGBIV colors. It gave off a cute "My Little Pony" vibe and we totally love it!
Kim, the second Kardashian sister, is known for her sleek, taut ponytails. She has been seen with her signature hair in different events and there's never a hair out of place—shoutout to her stylist. While Kim has always been a fan favorite on the tight ponytail range, we also love her looser, laidback ponytail styles.
However, KIm is not the only one who loves tight ponies. There's a gorgeous Latina who's become an all-round connoisseur of the "pull it till it hurts" ponytail styles. And she's none other than…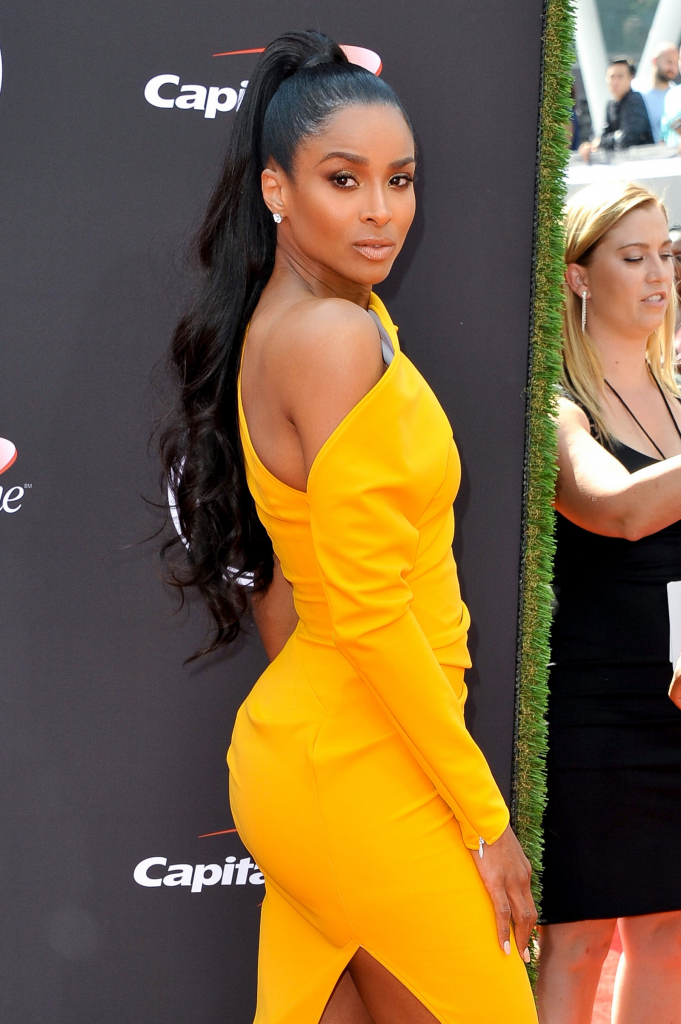 If you're talking timeless, then you'll most definitely mention Jennifer Lopez. However, it's not just age she's defying these days, add gravity to the list. JLo has given us some of the best ponytail updos in the industry. She usually goes for the high and tight ones, with a voluminous mass of hair at the back.
JLo is the maestro of ponytail hair extensions. Most of her styles feature her natural hair securely held back, before leading to an eruption of enormous curls or wavy locks that flow over her head and neck like a beautiful golden brown fountain.
To properly recreate her look, you shouldn't only depend on your natural hair. You will need help, the hair extension kind. You should try wearing a layer—or two—of extensions! Carrying that much hair on your head may look daunting but you can get used to it. However, don't push your hair to the limits, especially if you have really fine hair.
Start small, then work yourself up the hair extension ladder.
However, if you're not a fan of massive pylons, you can copy some of JLo's sleeker looks, like her retro flip ponytail which she showcased at the Hustlers premiere. The "facelift ponytail" gave her a modern look that showed off her beautiful cheekbones.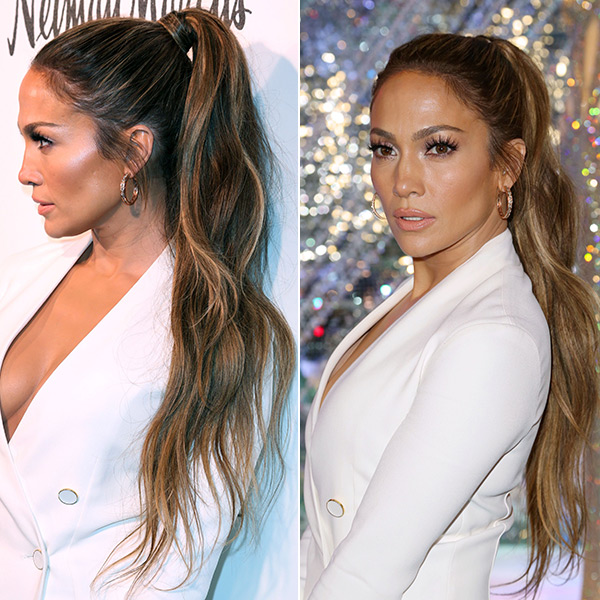 She's the Queen B of music and of iconic ponytails, it seems. Beyonce has had a lot of fit-for-the-walkway ponytails over the years. Her best looks include the side swept low ponytail she spotted in the 2022 Oscars, and her 2016 braided ponytail look at Dusseldorf. But one of her most acclaimed ponytails is her high updo which graced the red carpet of the Met Gala in 2015. It featured a sleek high ponytail that transitioned into wavy curls down the side of her head, and truly had the internet buzzing with fans trying to recreate the Queen's famous eye-popping look.
Truly, Beyonce is a veteran in the ponytail game, but she is not the only soldier on the ponytail field. Now, let's go to a celebrity that's made exciting ponytails their calling card.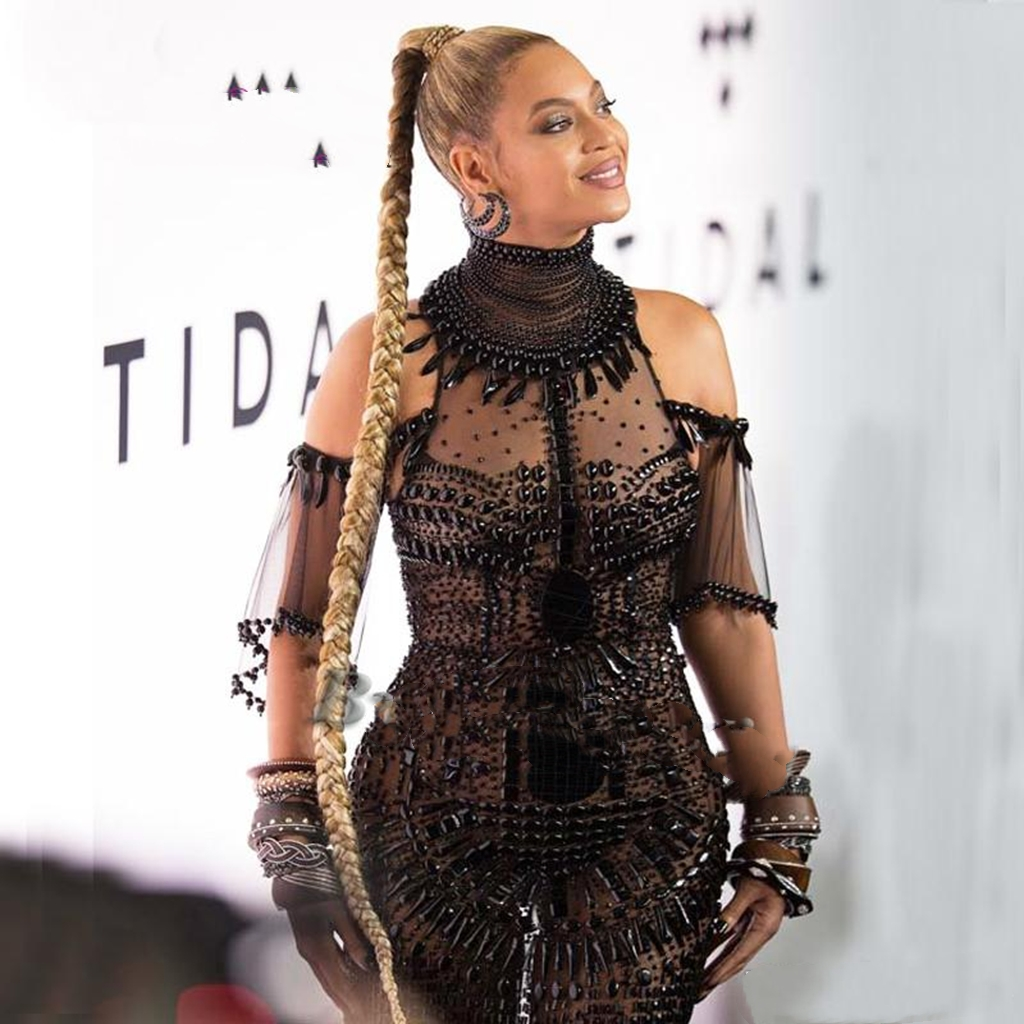 No ponytail convo is complete without Ariana. She basically owns it now; from her iconic pink disney hair to her smashing music video ponytails. Ariana IS the ponytail collector. And hair extensions share in the praise too. According to a post on Instagram in 2014, Ariana admitted that she used extensions to complement her hair. Here are her words.: "I wear extensions but I wear it in a ponytail because my actual hair is so broken that it looks absolutely ratchet and absurd when I let it down."
You go queen! Rock those hair extensions
Like we said earlier, a ponytail is the easiest way to wear hair extensions and still look natural. They are simple to pack and can be styled in a variety of ways. Our celebrities know that, and now you do too. So, if you're at a loss on what hairstyle to make, you can pick from any celebrity ponytail styles on this list, and beyond. The sky is your limit. But don't forget to use GoodYard Hair extensions for your ponytail styles. Our products are ethically sourced, lightweight, and kind on your scalp. We promise the best quality Remy hair that fits your budget. So, come let's make your celebrity ponytail dream come true.
Comment