5 Best Trendy Men Hair Systems in Summer
May 13,2022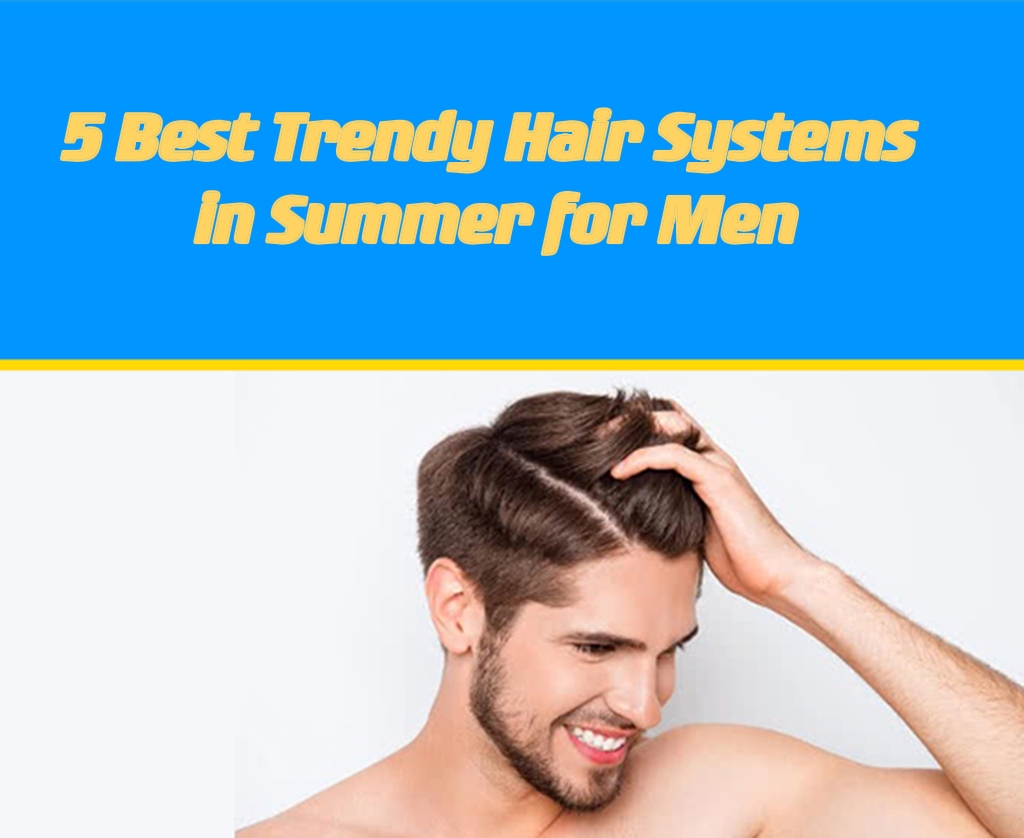 While choosing a hair system, people usually forget about considering the weather. A lot of people fail to realize that the hair system significantly impacts the skin and results of wigs. Due to negligence, they can end up with sweaty scalps, irritation, and itchiness.
Summer hair systems are designed to keep the head sweat and irritation-free. They are usually made of a net with minimal holes to keep the ventilation active. These wigs look natural and realistic. You can confidently attain any look without worrying about scorching heat and sweat.
If you feel confused while differentiating between different hair systems, we are to introduce some best wigs to consider for summers. They can offer you the desired look without damaging the skin. This article will lead you to the best hair caps for warm weather.
The Swiss lace men's hair system is a well-known and most appreciated wig. It mimics a natural look with the ability to attain any shape. It is an ideal choice for those willing to keep their scalp sweat-free during the summer.
This artificial hair cap is super lightweight and soft to keep the head high and prevent headaches. It is ultra-breathable with tiny holes in the base, which allows the air to pass and gives sweat-free days. The single knot on the front creates a pretty realistic hairline. Moreover, all the knots at the base are finely bleached to have an undetectable experience.
The advantage of this hair system for men is that it comes in various sizes and colors. Furthermore, according to customers' requests, the hair can be cut short. It comes with a medium to medium-light density. You can select it according to your face.
Hollywood artificial hair caps are well-known for keeping the men's scalp sweat-free and irritation free during hot weather. The addition of a French lace base makes it super lightweight to mimic the natural hair feel. French lace is a bit thin compared to Swiss lace, but it is breathable and appears pretty natural.
Already bleach knot features in this men's hair system strengthen it enough to style the hair of Hollywood artificial hair covering as you please. This wig has half-inch lace in the front with inches of poly skin in the perimeter. This design provides perfect fit and grip overhead.
A Hollywood hair wig is best for summer with 6 inches long hair. It will provide full coverage while keeping the head dry and sweat-free. Moreover, it is cut-able. It means you can style it the way you want. It comes in various sizes that you need to select carefully according to your head. Mostly, a 6 inches x 9 inches base ideally fits the majority of people. If you are looking for a hair wig that can give you a long run, Hollywood will not disappoint you.
The outstanding benefits of the Bella hair system have compelled us to include it in the best summer hair wigs list. It has all French lace construction making it sweat-free and breathable. The tiny holes in the base promote airflow, making it comfortable to wear in hot weather.
The extended French lace at the front features colorless knotting in front for dark colors. With maximum coverage, it covers complete baldness and every patch of skin on the head. The addition of two inches of skin on the back and 11/4inches skin at the side allows convenient perimeter cutting as well as bonding.
This hair wig is already bleached to give it a natural look. Moreover, cuttable making is free to style. With the 6 inches of hair length, you can style it as you want on time. The base size of 8 x 10 inches ideally fits almost every head, so you do need to get tangled between different sizes. However, it can only last 2 to 3 months, but these months will be pretty impressive in terms of your look.
It is the time to shed some light on one of the most splendid hair systems for men that is gaining the spotlight. The Australian hair system is well-appreciated by all men, especially in summer. The French lace construction provides breathability. The tiny hole promotes airflow and absorbs sweat.
The Australian hair system is super lightweight and keeps the head up and burden-free. You can roam around all day without worrying about falling and fatigue. Softness, lightweight, and affordability are all you may want in a hairpiece, and this hairpiece follows every criterion.
The French lace base at the center and 1 inch of skin around the perimeter increase its durability. Moreover, you can easily clean it without bothering with the tears. It features bleached knots to mimic natural hair look. Six inches long hair provides the liberty to style it according to your preference. This breathable and durable is built to last more than six months under proper care.
If you are looking for a hairpiece that offers considerable coverage, Octagon will be the right choice. The French lace construction will keep your head dry and irritation-free scalps in hot weather. The addition of poly skin on the sides and back of the wig has enhanced its durability to a great extent.
A wide range of base sizes makes it suitable for every person. You can carefully measure and select one offering the perfect fit and looks natural. Bleached knots are featured at the front and back to carefully hold the hairpiece in its place while giving a natural look.
The six inches long hair allows getting the style according to your face and choice. It is a one-time investment of six months. Get a hand on the Octagon hairpiece and attain your style for six months utilizing the same wig.
These hair systems for men not only help men to cover their baldness but also boost their confidence. The breathable, lightweight, and soft hairpiece is functional for all weather. It will provide your desired look in winter as well as summer. The ability to stand the sweat and heat makes hair system men perfect to rank in the market.
Comment